Hi guys, Karly here.
We've changed our name to Verbena Living and launched a pretty new site! Welcome, take a peek around.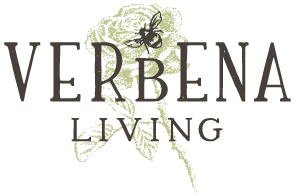 We have been busy bees developing a Lifestyle Collection of beautiful handcrafted goods in our Etsy Shop. Go take a look and snag a cutting board or print before they're gone!
Keep reading if you want to hear more about the back story to Verbena Living.
Just wanted to give y'all a little update on what we have been up to recently. Both my Mom and I got pretty burnt out from last year's demand of the flower farm and weddings all while care giving for my great Aunt Bea (who's the reason for the bee in the logo :)). We realized we needed to slow things down and leave more time for family and self-care. We had a trio of close family members pass away within a year and finally decided to take a break from the intense stress and craziness of the floral business. We spent much of 2016 rediscovering our passions and getting back to what keeps us grounded: keeping life simple and as natural as possible. We are branching out a little from flowers to leave more time for creating and crafting beautiful goods!
What we realized the past few months is that while we will always be in love with flowers, we have so many other interests that we have to explore. We love the occasional wedding and small event if it is within a few months out. Head on over to our Flowers page to check out all of our Floral Services.
I had a need to explore woodworking more, so I did. I've also been doing metal work and welding with my husband. I grew up painting and drawing, so I am just now getting back into that love. I've also started up stamp carving with hopes to print beautiful patterns on textiles using natural plant dyes.
My mom has a love of art and creating things. She's gotten back into watercolors and sewing. Together we hope to continue to expand Verbena into a beautiful lifestyle collection of handcrafted goods of quality and integrity.
Pretty please stay tuned because we are NOT done creating! There are so many ideas floating around in our heads that we can't wait to see come to fruition. If you have any product ideas for us, go ahead and comment below! We'd love your feedback.
I've posted a sampling of some our work. I really have tried sooo hard to keep the prices reasonable so that our products can reach all of you! But please know that so much time, energy, and love has gone into these products and they are truly one of a kind. We hope that you guys continue to support small businesses like us!